Product Description
Osmium is smoke captured in crystal, a brightly shimmering yet dramatic silvery gray that reveals glints of tea green and lilac in its depths. This is a smoky eye in one jar, capturing light and shadow in a single sparkling shade.

The inspiration behind the name: Rarer than platinum, brighter than silver, denser than lead. Osmium is a stunningly lustrous element forming brightly twinkling silvery crystal structures. Osmium is the least abundant stable element on earth, and is believed to be the rarest precious metal in the universe.

Vegan color.
PHASE 3 INGREDIENTS NOTE: Osmium and Thallium contain synthetic fluorphlogopite, a new ingredient to us sometimes referred to as "synthetic mica." While our focus remains on formulating with beautiful natural ingredients, synthetic fluorphlogopite is a completely safe synthetic ingredient that is compatible with all health and ethics standards under any definition of clean beauty.
Osmium contains Ferric Ferrocyanide, a beautiful blue pigment. Ferric Ferrocyanide is approved for use in the United States for eyes and face, but not lips. In the European Union, Ferric Ferrocyanide is approved for use on eyes, face and lips.
Finish: Bright, complex and glittering
Texture: Flaky with a touch of natural oils, between loose shimmer and drier crème
Net Wt. 0.15 oz / 4.35 g
INGREDIENTS FOR THIS SHADE
Osmium: (Vegan color) Capryloyl Glycerin/Sebacic Acid Copolymer, Calcium Sodium Borosilicate, Iron Oxides (CI 77499, CI 77491), Calcium Aluminum Borosilicate, Synthetic Fluorphlogopite, Mica (CI 77019), Caprylic/Capric Triglyceride, Tin Oxide (CI 77861), Titanium Dioxide (CI 77891), Silica (Silicon Dioxide), Ferric Ferrocyanide, Rosmarinus Officinalis (Rosemary) Leaf Extract*, Tocopherol (Non-GMO Soy Derived)
INGREDIENTS AS LISTED ON PACKAGING:
Capryloyl Glycerin/Sebacic Acid Copolymer, Caprylic/Capric Triglyceride, Rosmarinus Officinalis (Rosemary) Leaf Extract*, Tocopherol (Non-GMO Soy Derived)
MAY CONTAIN: Calcium Sodium Borosilicate, Calcium Aluminum Borosilicate, Synthetic Fluorphlogopite, Titanium Dioxide (CI 77891), Silica (Silicon Dioxide), Carmine (CI 75470), Bismuth Oxychloride (CI 77163), Boron Nitride, Calcium Carbonate, Ferric Ferrocyanide (CI 77510), Mica (CI 77019), Iron Oxides (CI 77491, CI 77492, CI 77499), Tin Oxide (CI 77861), Ultramarines (Cl 77007), Chromium Oxide (CI 77288), Zinc Oxide (CI 77497), Bixa Orellana (Annatto) Seed, Copper Powder (CI 77400), Bronze Powder (CI 77400)
*Certified organic
OUR PROCESS OF CREATION
Rituel de Fille creates and produces everything in-house in Los Angeles to meet our exacting standards. Our formulas are entirely our own, developed with great care through years of study and experimentation. Each is entirely unique and exclusive to us.
We approach our formulation like potion-making: we learn the nuances of every ingredient, and carefully select each pigment, oil and wax for a clear purpose. By developing each product from the ground up, we achieve something remarkable with the fewest ingredients possible. This attention to detail creates uniquely bold yet nuanced colors, opulent textures, and lush sensorial experiences loved by many of the world's most accomplished makeup artists.
Rituel de Fille products are Leaping Bunny Certified cruelty-free, verifying that none of our products or raw ingredients are ever tested on animals. Made without: synthetic dyes, synthetic fragrances, parabens, PEGs, phthalates, talc, carbon black, or plastic-based glitters, and we take great care in ethical sourcing.
How To Apply
We prefer fingertip application for the brightest, most beautiful color payoff. If brushes are preferred, these products should be applied with synthetic bristles. Eyeshadow sponges or silicone sponges are also compatible for application.
All of the Crystalline Matter Eye Soots have a highly pigmented, flaky consistency. Just a tiny swipe of your finger picks up more than enough product for the application. If you prefer, scrape out a little bit of product onto the back of your hand. Then swirl it around on the back of your hand using your finger or an applicator to remove the excess product, and work it on your finger or applicator. Swipe your finger or applicator along your eyelid. Working in thin layers prevents fallout. Apply an additional layer, or wear on top of your favorite Ash and Ember Eye Soot for an opaque look.
Crystalline Matter Eye Soot
Crystallization is an alchemical process that creates order from chaos. It performs an elemental purification as minerals and metals silently draw together atoms joining like with like and self-assemble into lustrous and scintillating new forms.
Crystalline Matter Eye Soot captures the radiance and awe-inspiring beauty of the crystallization process in shades as radiant as the most perfect mineral specimens. These remarkable colors are all formulated, carefully mixed and filled entirely by hand, using only mineral pigments to create their remarkable sparkling finish.
Since we created Crystalline Matter Eye Soot, we have been utterly spellbound. We knew right when the formulas were perfected: the moment they moved us. These are our euphoria captured; they have given us goosebumps, caused shivers. We have gazed transfixed by the glimmering from their prismatic jars.
These are the most perfect of glitters. They sparkle so brightly with an unmatched complexity. They shift so elegantly, revealing a hypnotizing depth of color. They apply and wear so beautifully, creating a perfectly undone and utterly mesmerizing eye.
Customer Reviews
Write a Review
Ask a Question
Filter Reviews:
Osmium
formula
texture
silver glitter
goth
metal
pieces
brow bone
edge
shine
03/11/2022
K A.

United States
Industrial glamour
Osmium is industrial glam in a jar. It looks like sparkly metal and is the perfect finisher to any goth looking needing a little glamour or any neutral look needing a little more of an edge.
03/11/2022
Cassie

United States
More pigmented than I was expecting!
First of all, this formula is super special! It drier and far more glittery than the other Soots or Gelees. Functionally, you can almost use it similarly to a glitter. Almost! Because, Osmium in particular has a decent grey/black pigment in addition to the silver reflective pieces. Really beautiful, but a little harder to bring the reflective shine all the way up to the brow bone with the pigment. Great for a heavy lid application!
01/09/2022
Mindy S.

United States
The perfect silver eye
I've been wanting and imagining a silver glitter/glossy eye product like this for years and could never find the right one. This new formula is stunning and even more impressive in person. The Osmium shade reminds me of Emma Stone's iconic Cruella makeup. Very punk, just the right amount of messy texture, intense dimension. I am in love.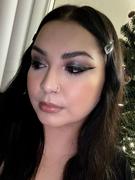 .